DO YOU!! BELIEVE WE ALL HAVE A PART TO PLAY, GOING INTO THE GOLDEN AGE?? I DO, LET US GATHER TOGETHER, AND GET THE BALL ROLLING. LET US DISAGREE TO AGREE AND, CAN WE DO THAT? LET US KEEP FOCUSING BACK TO THE ROOT CAUSE, ACTION OF WHAT WE WE WE!!! ARE TRYING TO ACCOMPLISH. ISN'T THAT: Unity for All, Peace for All, Love for All, Prosperity for Our Whole for All, Justice!! & Rightiousness!! for All???? I Ask these Questions???? to the Depth of ALL OUR Hearts, wich is LOVE. THIS CLIP IS IMPORTANT TO WATCH....TO ALL, All Military, All those For We The People!!! together working to gether, for THE GREATEST CAUSE!!! WE CAN DO IT!!!! Blessings of Love Peace and Joy turning to Bliss!! for All elizabeth Diamond. LETS SHINE!!! TOGETHER!!! in ACTION!! Now.
Also there are many others out there that have the Truth; Let Us! learn if you don't know yet, and GOOOO to Action!!! much love e diamond
pool colonists
129:17 - chopped 5 times
The Declaration of Independence: The Full Text in English…. and Spanish
It is still one of the greatest documents ever written. Take a moment to just read it, and separate it from the historical context and how this country was formed. This
Declaration of Independence
, signed 236 years ago today, was in its essence, rebellious in nature. A huge FU to a King. The United States was formed through dissent (and many would say violence, genocide, and brutality). But that is not what this post is about. It is about a document that represented the collective minds of a band of white men who where living in the 18th century. Through action, they stood for something. There was a call for equality, even though that equality was very limited in 1776. Still, it was a start. The question for to ask: how does this document apply to us today in 2012? What does it say to us about Americans? Who abuses this document and who tries to be inspired by it? Who uses it to justify hate towards humans and who uses it to promote true equality?
This post not only contains the full text of the Declaration, but also a Spanish translation we found from 1821.
IN CONGRESS, July 4, 1776.
The unanimous Declaration of the thirteen united States of America,
When in the Course of human events, it becomes necessary for one people to dissolve the political bands which have connected them with another, and to assume among the powers of the earth, the separate and equal station to which the Laws of Nature and of Nature's God entitle them, a decent respect to the opinions of mankind requires that they should declare the causes which impel them to the separation.
We hold these truths to be self-evident, that all men are created equal, that they are endowed by their Creator with certain unalienable Rights, that among these are Life, Liberty and the pursuit of Happiness.–That to secure these rights, Governments are instituted among Men, deriving their just powers from the consent of the governed, –That whenever any Form of Government becomes destructive of these ends, it is the Right of the People to alter or to abolish it, and to institute new Government, laying its foundation on such principles and organizing its powers in such form, as to them shall seem most likely to effect their Safety and Happiness. Prudence, indeed, will dictate that Governments long established should not be changed for light and transient causes; and accordingly all experience hath shewn, that mankind are more disposed to suffer, while evils are sufferable, than to right themselves by abolishing the forms to which they are accustomed. But when a long train of abuses and usurpations, pursuing invariably the same Object evinces a design to reduce them under absolute Despotism, it is their right, it is their duty, to throw off such Government, and to provide new Guards for their future security.–Such has been the patient sufferance of these Colonies; and such is now the necessity which constrains them to alter their former Systems of Government. The history of the present King of Great Britain is a history of repeated injuries and usurpations, all having in direct object the establishment of an absolute Tyranny over these States. To prove this, let Facts be submitted to a candid world.
He has refused his Assent to Laws, the most wholesome and necessary for the public good.
He has forbidden his Governors to pass Laws of immediate and pressing importance, unless suspended in their operation till his Assent should be obtained; and when so suspended, he has utterly neglected to attend to them.
He has refused to pass other Laws for the accommodation of large districts of people, unless those people would relinquish the right of Representation in the Legislature, a right inestimable to them and formidable to tyrants only.
He has called together legislative bodies at places unusual, uncomfortable, and distant from the depository of their public Records, for the sole purpose of fatiguing them into compliance with his measures.
He has dissolved Representative Houses repeatedly, for opposing with manly firmness his invasions on the rights of the people.
He has refused for a long time, after such dissolutions, to cause others to be elected; whereby the Legislative powers, incapable of Annihilation, have returned to the People at large for their exercise; the State remaining in the mean time exposed to all the dangers of invasion from without, and convulsions within.
He has endeavoured to prevent the population of these States; for that purpose obstructing the Laws for Naturalization of Foreigners; refusing to pass others to encourage their migrations hither, and raising the conditions of new Appropriations of Lands.
He has obstructed the Administration of Justice, by refusing his Assent to Laws for establishing Judiciary powers.
He has made Judges dependent on his Will alone, for the tenure of their offices, and the amount and payment of their salaries.
He has erected a multitude of New Offices, and sent hither swarms of Officers to harrass our people, and eat out their substance.
He has kept among us, in times of peace, Standing Armies without the Consent of our legislatures.
He has affected to render the Military independent of and superior to the Civil power.
He has combined with others to subject us to a jurisdiction foreign to our constitution, and unacknowledged by our laws; giving his Assent to their Acts of pretended Legislation:
For Quartering large bodies of armed troops among us:
For protecting them, by a mock Trial, from punishment for any Murders which they should commit on the Inhabitants of these States:
For cutting off our Trade with all parts of the world:
For imposing Taxes on us without our Consent:
For depriving us in many cases, of the benefits of Trial by Jury:
For transporting us beyond Seas to be tried for pretended offences
For abolishing the free System of English Laws in a neighbouring Province, establishing therein an Arbitrary government, and enlarging its Boundaries so as to render it at once an example and fit instrument for introducing the same absolute rule into these Colonies:
For taking away our Charters, abolishing our most valuable Laws, and altering fundamentally the Forms of our Governments:
For suspending our own Legislatures, and declaring themselves invested with power to legislate for us in all cases whatsoever.
He has abdicated Government here, by declaring us out of his Protection and waging War against us.
He has plundered our seas, ravaged our Coasts, burnt our towns, and destroyed the lives of our people.
He is at this time transporting large Armies of foreign Mercenaries to compleat the works of death, desolation and tyranny, already begun with circumstances of Cruelty & perfidy scarcely paralleled in the most barbarous ages, and totally unworthy the Head of a civilized nation.
He has constrained our fellow Citizens taken Captive on the high Seas to bear Arms against their Country, to become the executioners of their friends and Brethren, or to fall themselves by their Hands.
He has excited domestic insurrections amongst us, and has endeavoured to bring on the inhabitants of our frontiers, the merciless Indian Savages, whose known rule of warfare, is an undistinguished destruction of all ages, sexes and conditions.
In every stage of these Oppressions We have Petitioned for Redress in the most humble terms: Our repeated Petitions have been answered only by repeated injury. A Prince whose character is thus marked by every act which may define a Tyrant, is unfit to be the ruler of a free people.
Nor have We been wanting in attentions to our Brittish brethren. We have warned them from time to time of attempts by their legislature to extend an unwarrantable jurisdiction over us. We have reminded them of the circumstances of our emigration and settlement here. We have appealed to their native justice and magnanimity, and we have conjured them by the ties of our common kindred to disavow these usurpations, which, would inevitably interrupt our connections and correspondence. They too have been deaf to the voice of justice and of consanguinity. We must, therefore, acquiesce in the necessity, which denounces our Separation, and hold them, as we hold the rest of mankind, Enemies in War, in Peace Friends.
We, therefore, the Representatives of the united States of America, in General Congress, Assembled, appealing to the Supreme Judge of the world for the rectitude of our intentions, do, in the Name, and by Authority of the good People of these Colonies, solemnly publish and declare, That these United Colonies are, and of Right ought to be Free and Independent States; that they are Absolved from all Allegiance to the British Crown, and that all political connection between them and the State of Great Britain, is and ought to be totally dissolved; and that as Free and Independent States, they have full Power to levy War, conclude Peace, contract Alliances, establish Commerce, and to do all other Acts and Things which Independent States may of right do. And for the support of this Declaration, with a firm reliance on the protection of divine Providence, we mutually pledge to each other our Lives, our Fortunes and our sacred Honor.
http://www.latinorebels.com/2012/07/04/the-declaration-of-independence-the-full-text-in-english-and-spanish/
marsWHISTLEBLOWER REVEALS MORE OF HIS COVERT MILITARY SERVICE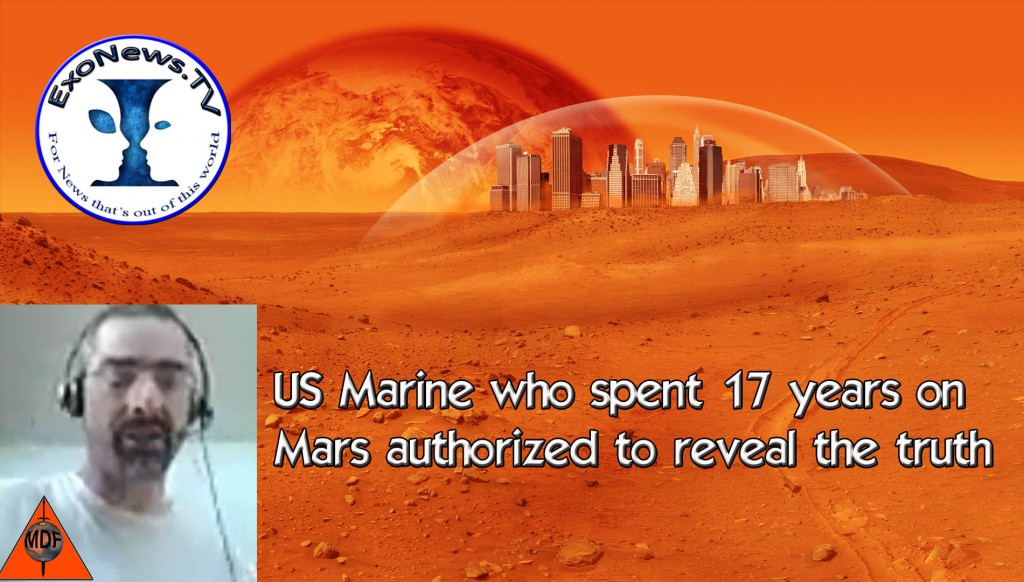 Randy Cramer (aka Captain Kaye, USMC s.s.) who claims to have spent 17 years on Mars and three years serving on a secret space fleet has just released his
first newsletter
. It has his responses to a number of questions from the general public sent to him by email or Facebook. For those that have followed the Captain Kaye material, there will be fascinating details on issues covered more generally in earlier interviews/articles. Below are some of the highlights from his newsletter and their significance.
The most pertinent information in my opinion is that Randy is still acting under direct orders from his military superiors – a brigadier general and colonel serving in a covert branch of the U.S. Marine Corps called "special section." This was covered in my last
skype interview
with him. In the newsletter he says:
Col. Jamieson put me in touch with a man identifying himself as Brigadier General Smythe. General Smythe gave me a fairly long-winded explanation about the "soulless pricks" (his words) on "the Committee" that he was supposed to answer to, and the serious disagreements by USMC s.s. brass with said Committee. Without elaborating, I was satisfied with his explanation of the situation on his end. When he personally gave me the go-ahead (he said, and I quote, "I'm giving you the go-ahead to go public with everything you know…"), I asked, "Everything?" and he said, "EVERYTHING!", and then we had a deal. As long as I had the assurance that my direct chain of command was behind me and that I had no restrictions on truthful content, I knew it was for real – and that HE was for real. No one – not even an enemy – would want me to do that, or tell me to do that. He even said I could use his name, which I just did, to let the people who need to know, that I answer to him, and only to him… and if they didn't like it, they could take it up with him, or the CMC.
One of the issues covered during
his interviews
was that the mind control techniques used on him and other Marine Corps s.s. recruits was not trauma based as was common with other covert programs. Here Randy gives more details on the two different types of mind control used by covert military services:
The techniques used to make me have been described to me as a "with-the-grain" style of programming as opposed to most "against-the-grain" styles of programming that try to force Super Soldiers to kill anything, anytime, anywhere – and as human animals, most of us just aren't made that way, so we resist – and the main function then becomes 'suppressing' the urge to resist. Rather than creating the best Super Soldier you can, you only create the most compliant. The "with-the-grain" style programming doesn't try to create something that kills on command, but, rather, it creates a deep seated instinct to protect its tribe and its territory when threatened. So, as long as you can explain the threat credibly, the soldier will use all of its strength and cunning to destroy any that would harm those it's genetically predisposed to protect.
Randy comments on the nature of compartmentalized projects and the power acquired by project directors. This is pretty consistent with what other whistleblowers have revealed about covert programs that have increasingly become rogue operations:
It would appear that what was once a fairly cohesive effort by a handful of covert programs to deal with the ET/exobiological/technological issues, is no longer cohesive, and nor is it just a hand full. It seems that it has degraded into a feudal style conflict where every 'Deep Black' program director who has a measure of control in the larger equation is refusing to share data, while trying to steal and acquire everyone else's data – while trying to keep his/her sub-programs hidden so they cannot be stolen. Alliances are made and broken. All high technology is just used to spy and steal from each other with the hope that whoever wins the 'Deep Black race' will get to rewrite all the rules and make the world in their image; because, quite simply, there will be NO ONE to stop them from doing so with all the competition eliminated, or left in the dust.
In his response to a question about his arrival on Mars, Randy says that his first experience was stepping out into the open which is breathable. Other Mars whistleblowers have said similar things and of course there are many Mars Rover
images of animals
roaming the surface of Mars. Randy's testimony is more evidence that NASA is lying that the atmosphere is 96% CO
2
with trace amounts (0.15%) of O
2
. His account of the transfer station sounds like the kind of open air conditions one finds in landing at many small airports.
We touched down at Aries Primus, HQ of the MCC (Mars Colony Corporation) and the MDF (Mars Defense Force). To my surprise, we walked down the gangplank and right out into the Martian air. The air was thin and cool, but the sun was beating down enough to feel it. Even though it's dimmer, the sun can still be quite hot and bright in the direct light. We walked, in a line, to personnel with scanners in their hands who would scan your transfer packet, and then direct you to whichever shuttle pad was to take you to your duty station.

I boarded a small shuttle that looked like a soda can that had been through hell and back. It was long and narrow, and had two rows of seats against the side walls facing each other. You could fit about 32 people (plus, two flight crew) inside. It was a noisy and rough ride, and when I got out, we were in the motor pool/main hangar of Forward Station Zebra: my new home for the next 17 years.
When asked about the moon landing by Neil Armstrong and Buzz Aldrin, Randy commented about how the moon program was a cover and that many were surprised Armstrong didn't say more before his death. One likely reason is that Armstrong
received death threats
against him and his family if he revealed to others before his death:
… we know the covert program was on the moon in the Fifties, and on Mars in the Sixties – but only a few people knew that. To everyone else, the NASA program was all there was. Several astronauts of the Mercury program had said they thought they were just "spam in a can", and that the real deal must be in some deeper program. A lot of us thought Neil Armstrong might do a deathbed confession, but he went to the grave with what he knew.
Finally, Randy claims that President Eisenhower created the US Marine Corps special section in 1953 as a counterweight to the MJ-12 Group. That makes a lot of sense given the long history of the Marines and Eisenhower's suspicions about the growing power of MJ-12 that culminated in his 1958 threat to
invade area 51/S4
:
President Eisenhower ('Ike') created USMC s.s. because he didn't trust "those MJ-12 boys", and he wanted a military unit (disciplined and oath driven, not like intelligence community people), and he wanted them to be marines because he wanted them to have the highest ethical and moral fiber. So they recruited their first officer class from the Navy and the Marine Corps, before they created their own officer academy, because Sailors and Marines have a shipmate and teammate mentality. We all work together, or we all go down with the ship – essentially. This distinction has a ripple effect that makes Navy and Marine command structure TOTALLY different from Army or Air Force, which is where the main corruption comes from: greedy conquerors (fucking Legionnaires) – mix that with the T2 eugenicists, and you have a global nightmare the Nazis only envisioned in their wettest dreams.
Randy's
newsletter
has much more fascinating information in it and is well worth reading.
For the moment, there hasn't been much in the way of direct confirmation of Randy's claims other than whistleblowers such as
Andy Basiago, J.D.,
corroborating some of the details he revealed about bases on Mars:
After careful analysis, I have concluded that the Mars testimony of Captain Randy Cramer is truthful. I am convinced that Randy is "the real deal."
More needs to be done in that regard and perhaps that's where Randy's superiors in the chain of command can help him, if they really desire disclosure to move forward quickly. Nevertheless, Randy's revelations about Mars and the secret space fleet are certainly something to deeply consider as we move inexorably towards a world where some truths about extraterrestrial life are finally revealed, but other elements of the cover up are likely to continue in rogue covert programs.
© Copyright 2015. Michael E. Salla, Ph.D. Exopolitics.org
http://exopolitics.org/mars-whistleblower-reveals-more-of-his-covert-military-service/
https://www.youtube.com/watch?v=g8jzpfVYOu4&list=PLZKhn_ND7JSeeH-_1nApUoRmi3W3Xo4t9
j