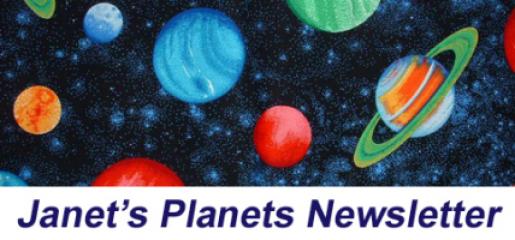 Jun 7 – Mercury Retrograde at 3 Cancer until Jul 1. A good time to review your plans, rethink your strategy for getting ahead. Sharpen your communications skills.
Jun 8 – Venus trine Pluto. Pleasure and romance. This is a good aspect for making a new friend or starting an intimate relationship.
Jun 9 – Neptune Turns Retrograde at 7 degrees of Pisces until Nov 16, 2014. Neptune is considered the higher vibration of Venus. It symbolizes sensitivity and spiritual strength but also escapist tendencies. During the period of the retrograde, you may feel indecisive, sentimental, careless and scattered. I know, you feel that way all the time! Today, Neptune is very strong in your chart if you have personal planets (Sun, Moon, Mercury, Venus or Mars) or the Ascendant at 5 to 8 degrees of Pisces or Virgo. Expect to be flying in outer space for a few days.
Jun 13 – Venus Opposite Saturn at 17 degrees of Taurus/Scorpio. You feel really sorry for yourself today, because you are all alone and no one loves you. Especially weepy day if you have personal planets or the ascendant at 15 to 18 degrees of Taurus or Scorpio.
Full Moon at 22 Sagittarius. This is a culmination of what you have been planning all month. Sadge is a happy sign and you will feel exuberant today and nothing can hold you back. This full moon plus the Venus Opposite Saturn could make you reach for the lithium.
Jun 14 – Mars Square Pluto at 12 degrees of Libra/Capricorn. Angry placement. You wonder what aspect shooters have when they go on a rampage. Well this is it. Watch out if you have personal planets or the ascendant at 11 to 13 degrees of Libra/Capricorn.
Jun 17 – Mercury enters Gemini until July 13. Mercury has retrograded back into Gemini and he is very happy here because that is the sign he rules. We all get really obsessive about sending messages out on facebook.
Jun 19 – Sun conjunct Mercury at 28 Gemini. If you have personal planets or the ascendant here, you are streaming some important information from the universal computer and talking to everyone around you as fast as it comes in.
Jun 21- Sun enters Cancer until July 22. This is the time of family and home barbeques. (No I don't mean you should barbeque the family).
Jun 23 – Venus enters Gemini until Jul 18. Venus in Gemini is a big flirt, she/he is not serious about a relationship now. Anyone you meet on Harmony.com may be a con man, married or a space cadet or just not available.
Jun 25 – Mars opposite Uranus at 15 degrees of Libra/Aries. Another angry aspect. But on this one you get over it as fast and it comes on. Especially hotheaded if you have personal planets or the ascendant at 15 degrees of Libra or Aries.
Jun 27 – New Moon at 5 Cancer. This is the beginning of the dog days of summer. You feel energized to start something new.
Jun 29 – Sun trine Neptune. Go on vacation!
Venus Square Neptune. While you are on vacation, don't fall in love and watch your belongings.
JUPITER is in Cancer until July 2014. This month Jupiter will move from 20 to 26. Jupiter is about growth and expansion. Look to the house in your natal chart that holds 20 to 26 degrees of Cancer or Capricorn. This is the area of your life that will experience this expansion.
SATURN is in Scorpio until Dec 24, 2014. This month Saturn moves retrograde from 18 to 16 degrees of Scorpio. If you have the ascendant or any personal planets at 16 to 18 degrees of Scorpio or Taurus in your natal chart, you may be in store for some hard lessons around the issues ruled by the planet and the house the planet is in or rules. Scorpio rules passion, sex and depths of all kinds and Saturn may ask you to take on more responsibility for how you control your rage and psychological expression.
URANUS is in Aries until 2018. This month Uranus moves from at 15 to 16 degrees of Aries. We all feel a need to rebel; we want more freedom and want to make some radical changes in our life. I believe in "cooperating with the inevitable". If you have Uranus in a challenging aspect to your ascendant or personal planets, go on a long vacation, move, or make some major changes in your life.
NEPTUNE (creativity, sensitivity, escapism, dreams) is in Pisces until 2026 and stays at 7 degrees of Pisces all month. He turns retrograde on Jun 9. A lack of focus, a sense of drifting or an inability to see a betrayal or disappointment until it's too late can be experienced by those of you with the Sun or Personal Planets at 7 degrees of Pisces or Virgo. For the enlightened out there, Neptune can also bring artistic, musical, creative expression, increased dreams and spiritual insights. Watch for some really inspired films to come out during the time Neptune is in Pisces.
PLUTO is in Capricorn until 2023. This month Pluto is moving retrograde and moves from 13 to 12 degrees of Capricorn. Everyone is feeling the urge to purge and to find his or her truth. Profound changes will be felt especially by those with Sun, ascendant or personal planets at12 to 13 degrees of Capricorn or Cancer.
Have a good month
Janet Kane